Last year we saw the Oculus Quest 2 fly off the shelves during the deals season. And thanks to a recent 128GB refresh, it's the same story for the much sought after VR headset this Cyber Monday. You'll need to be quick if you hope to grab the Oculus Quest 2, as it's rapidly proven to be one of the swiftest sellers.
There aren't going to be any specific discounts on the best VR headset this year, but there is a Cyber Monday offer now live. Multiple retailers are offering $50 or £50 credit with purchases of either the 128GB or 256GB versions of the Quest 2. At Best Buy and Newegg you'll get that $50 as store credit or a store gift card, while if you buy direct from Oculus that $50 comes as game credit specifically.
And with Oculus it's worth bearing in mind that it needs to be redeemed to your Oculus account within 30 days and used within 60 days of redemption. Personally, I'd recommend going the retailer route and using that $50 credit towards the Deluxe Strap, because it makes a huge difference to the long-term comfort of using the Quest 2.
One thing to keep in mind is that, due to recent PC component shortages, getting the components together for a powerful machine is easier said than done. That means many are looking to the Oculus Quest 2 to fill a void. Thanks to the Oculus Quest 2 being a standalone VR headset, there's no need for massively high-end hardware. And with is pretty cheap whether it's on sale or not—is such a great, no-nonsense way to get in on the VR gaming action.
Now, the Quest 2 even has 120Hz support in some games, which is a darn sight better than it was. And if you're worried about the mandatory Quest 2 Facebook login (or Meta as it'll soon be known as) don't worry, Facebook looks to be getting rid of that soon—potentially stripping the Quest 2 of one of its largest flaws.
Where is the best place to buy an Oculus Quest 2?
In the US:
In the UK: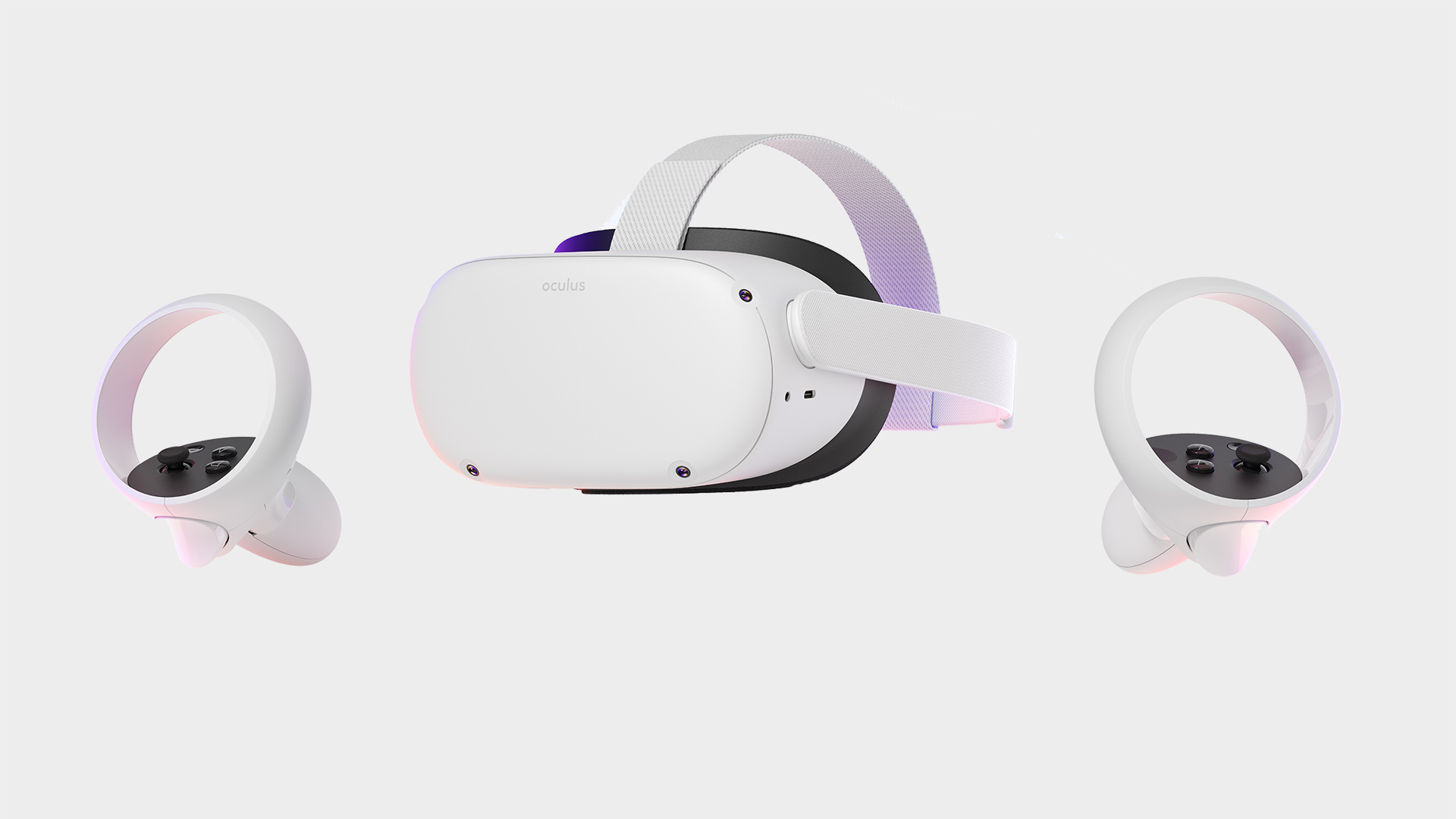 The Oculus Quest 2 both improves on the specs sheet of the original Quest and delivers it for cheaper. With a new LCD at 1832 x 1920 per eye, the Quest 2 offers exceptional clarity for an entry-level headset, through which you can enjoy a slew of games either purpose-built for the standalone headset, and thus rendered by the onboard Snapdragon XR2 chip, or beamed from your PC using Oculus Link and a compatible USB Type-C cable.
Thanks to Oculus Link, the Quest 2 becomes more than a standalone VR headset. It becomes an all-in-one VR Swiss army knife, capable of great on-the-move VR and gaming across SteamVR and Oculus Rift compatible titles. It's now capable of up to 120Hz refresh rate, thanks to a recent update, making it an even sweeter deal.
The Quest 2 is also one of the quickest headsets to get up and running on this list. With Inside-Out tracking and hand tracking built-in, you can go from unboxing to up-and-running in VR in just a couple of minutes. The Quest 2 has also enjoyed a boost in memory capacity recently, and $299 new gets you a 128GB model, which is a sweet boost indeed.
There's only one hitch in the Oculus Quest 2's plan for virtual world domination: compulsory Facebook account login. The Oculus Quest 2 requires a Facebook account right now, though maybe not for long. The company has said it's to better serve you, the customer, with services and products, although for a good while there the only discernible 'benefit' was direct to feed screenshots. Not great. But it looks like that is going to change in the near future.
Read our full Oculus Quest 2 review.
The best Oculus Quest 2 Cyber Monday deals
---
We've deployed the bot-powered might of our price comparison engine, to check for the best deals on the Oculus Quest 2 every hour of every day. Here are the best deals around right now.